Our logistic structure enables us
to produce our designs of proprietary products and industrial supplies and to ensure their prompt and effective maintenance.

INDUSTRIAL SUPPLIES AND SERVICES
In the industrial supplies and services area we produce environmental and process analysis systems,
we test and repair testing and measurement instruments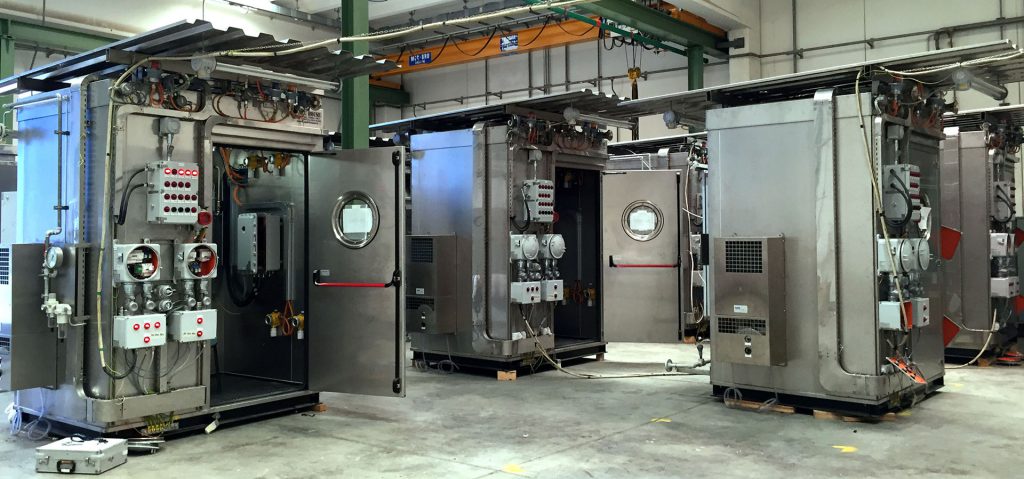 Industrial supplies and services area:
view of the assembly workshop for fixed air monitoring stations.
Skid
For the oil and petrochemical industry we design and supply, also on a "turnkey" basis, skid-mounted plants, including skid packages, such as: blowdown gas recovery systems, filtering systems, chemical additive systems and other particular applications, developed ad hoc to meet the client's specifications.
Sampling devices
Sampling devices are units designed to collect product samples safely and without affecting the environment.
The standards and models we have developed ensure simple and fast sample collection, as the whole procedure is reduced to a single manoeuvre.
Sampling can be performed on both liquids and gases.
Drainage valves
We design and construct automated valves, sensitive to the different densities of two fluids, useful in applications in which hydrocarbons and water are present.
The valves can be equipped with capacitance sensors able to discriminate the presence of water, air and hydrocarbons, complete with converter and a local alert and data transmission system.
Fire alarm systems
We produce, supply, programme, install and commission control panels for fire detection and fire extinguishing systems.
We also offer periodic checks, in accordance with standard UNI 11224, and ordinary and extraordinary system maintenance, to help our clients comply with regulatory requirements on the efficiency of fire protection systems.
Multi-parameter pollutant monitoring system
The Automatic Multiline Industrial Gas Analyser (AMIGA) designed and constructed by our engineers, is a versatile system built with proven quality components to detect and measure gas concentrations in industrial environments by means of several acquisition lines.
We also handle maintenance and the periodic checks necessary to ensure the reliability and fast response of fire alarm systems.
Monitoring of anaesthetic gases in operating rooms.
The MGA/PGA analyser for the monitoring of anaesthetic gases dispersed in operating rooms is a multiparameter and multiline sequential system, with integrated PC, based on a high-performance photoacoustic detector, specifically designed and built by our engineers for the automated continuous monitoring of air pollutants in workplace environments.
Atex luminaires
The lighting system for hazardous areas – zone 1/2 (gas) and/or zone 21/22 (dust) – is the latest LED technology-based patent developed by SARTEC.
A practical, easy to install and maintain product, delivering in one energy efficiency, safety and reliability.
Solar Trolleys
Portable photovoltaic units. These units, consisting of photovoltaic generator and storage batteries, are ideal for use in hard to reach places with no power supply.

MAINTENANCE
In the maintenance area we provide maintenance, calibration, adjustment and certification of plant and equipment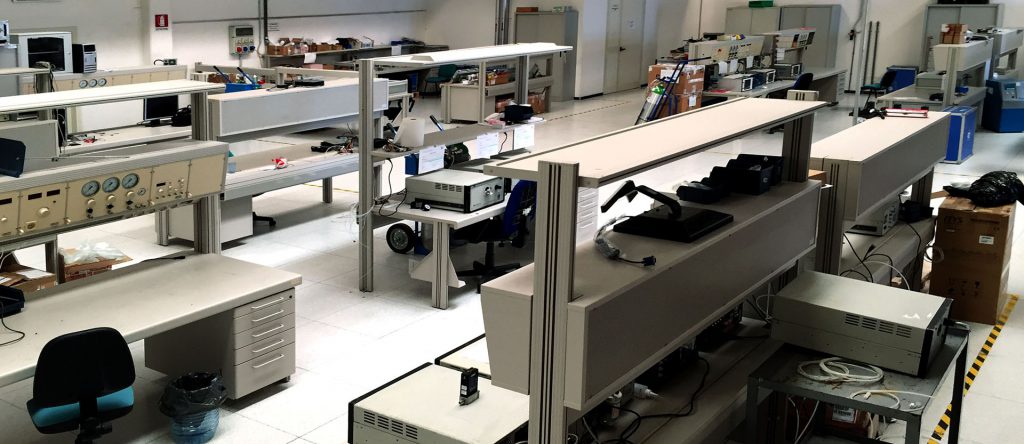 Maintenance area – view of the equipment workshop
Fiscal metering equipment
We provide maintenance and adjustment services and obtain certification by control agencies of measurement devices (fiscal meters) of finished refinery products. These meters are used for the fiscal measurement of transferred oil products.
Environment and process systems
We perform direct system maintenance and we engineer plant maintenance services.
This allows us to offer our customers more reliable instruments that deliver significant benefits, such as cutting operating costs and improving productivity.
Portable gas detectors
We have more than a decade's experience in the maintenance, calibration and adjustment of portable gas detectors, which are essential worker safety devices.
We provide a comprehensive service that takes into account the characteristics of instruments, manufacturer's recommendations and the applicable technical standards.

Lastly
A server area of some 1,700 m2 housing our company's IT network equipment and our storage facilities complete our logistical structure.