CONTINUAL IMPROVEMENT
We have developed a portfolio of consultancies and ready-to-deploy solutions enabling industries, services companies and public administrations to launch and maintain
a continuous improvement cycle in energy efficiency of production and operations
Energy efficiency targets are achieved through
a continuous cycle.
The cycle is continuous when a share of the savings delivered by a project is reinvested to develop new energy-efficiency projects.
We have been accredited by Kiwa Cermet Italia spa as an
Energy Service Company (ESCo)
conforming to CEI UNI EN 11352:2014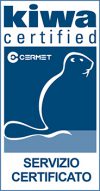 We develop and implement
energy efficiency projects, from basic design to installation;
we also handle applications for obtaining White Certificates or Energy Efficiency Certificates (EEC), and the sale of those certificates on the energy market.