Our Energy Consulting Service
supports our customers' top management in implementing their
Energy Management System
and drafting their corporate energy policy, so as to obtain
Energy is one of the most critical challenges facing the international community in our time.
This is why the publication, on 15 June 2011, of the international standard ISO 50001 on energy management systems was a landmark event: it is estimated the standard could have a positive impact on 60 % of the world's energy use.
ISO 50001 replaced standard EN 16001:2009 (issued by CEN/CENELEC – European Committee for Standardization – which was applicable only in Europe). It provides public and private sector organisations with management strategies to increase energy efficiency, reduce costs and improve their energy performance.
The Recent Legislative Decree no. 102 of 4 July 2014, implementing Directive 2012/27/EU on energy efficiency, exempts the companies certified under ISO 50001 from the obligation – applying to large companies and energy intensive companies – to perform an energy audit by 5 December 2015 and every 4 years thereafter.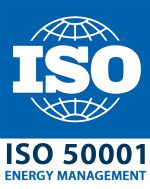 CERTIFICATION OF CONFORMITY TO STANDARD ISO 50001
Companies certified to this energy management standard increase their market competitiveness and their image with the public and investors.
Certification to ISO 50001
can be obtained by any company, regardless of size, sector and geographical location, since it can be adapted to each company's structure and is easily coordinated with other ISO and OHSAS standards.

BENEFITS
Assurance of regulatory compliance
•
Better awareness of the organisation's energy consumption and of its costs
•
Identification of zero-cost management actions
•
Systemic and structured implementation of energy efficiency improvement projects
•
Coherent and systematic approach to setting energy targets and selecting the best tools to meet them
•
Access to several funding sources and to the main incentive schemes (e.g. the White Certificates – EEC)
•
Reduction in the financial impact of compliance with the EU-ETS (Emission Trading System) Directive for the companies concerned